Baby Skincare
Most babies will suffer from diaper or nappy rash at some point. Common especially during periods of teething, after immunisations or stomach upsets, diaper rash can be hugely uncomfortable for babies (and their parents too) and once it occurs it can often prove difficult to heal.
---
Baby Cream Spray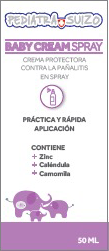 Pediatra Suizo's Baby Cream Spray offers a fast, hygienic way to apply nappy cream.
The concentrated formula, with healing Zinc and soothing Chamomile and Calendula helps to protect baby's delicate skin and also heals irritated, sore skin. Its gentle formulation provides a protective layer to prevent friction and irritation on baby's delicate skin.
Just one layer is sufficient to achieve the desired effect. In fact, each 50ml spray provides up to 3 x times more applications than other well-known brands. Perfect for using on the go or at home.
The spray dispenser is also super hygienic as no direct contact is needed with the cream, reducing the risk of cream contamination.
Free-from Alcohol, Parabens, and animal derived ingredients.
Concentrated nappy cream formula with healing Zinc, soothing Chamomile and Calendula
Protects baby's delicate skin and also heals irritated, sore skin
Gentle formulation, free-from Alcohol and Parabens
No animal derived ingredients
Up to 3 x times more applications than other well-known brands
Hygienic spray dispenser